Over the last decade or so investment philosophy has changed significantly. In the old school it was taught- Good companies are the ones that had consistent growth, profitable and maintained stable margins. Management bandwidth was judged based on the number of crises overcome, promises fulfilled, dividends paid out and creation of shareholder value. However, we live in times when intangible ideas are getting more valuation than tangible profits. The glamour of having invested in an IT related startup is superseding any far-fetched logic. Surely some of the guys in the room were a bit too high!
Hence its occasionally a pleasure to remind ourselves about unglamorous dusty stories which have gradually grown over time and offered significant returns to shareholders. Under the current scenario something simple that we can touch and feel is so much of a relief! This note is just a restatement…
The Birla Group founded in 1857 has one of the country's most inspiring industrial journeys. It functions across 35 countries employing over 1,20,000 people. Its flagship, Grasim entered the Cement sector as early as the mid-1980s to service the insatiable need for infrastructure development in the country. Though the beginnings were humble with a capacity of 1MTPA the then Chairman Aditya Vikram Birla had envisioned the company to become a national leader. The liberalisation of the economy in the early 90s favoured pre-established players allowing the company to raise its capacity to 8.5 MTPA by 1998 and 14.12 MTPA by 2003. In 2004, Grasim completed its masterstroke by acquiring of L&Ts cement business: Ultratech Cement Ltd. which became the face of Grasim's Cement operations.
In Ultratech Cement Ltd.'s first annual report (2004-2005) since Grasim's acquisition K.M. Birla reiterated the vision of the founders which was made 25 years ago. Today, the company holds a 23% market share dominating national and regional markets. It will achieve the country's highest installed capacity of 106.5 MTPA by 2019 (the nearest competitor way lower @ 31.6MTPA), a 100x growth in under 40 years of its existence!
Growth has come through a mix of both organic and inorganic methods. The Chairman unveiled Ultratech's audacious growth plan in FY13 to scale capacities to 65 MTPA by 2015 earmarking a mammoth fund of Rs11,400 cr for capital expenditures. In FY14 acquiring Jaypee Cement's 4.8MTPA subsidiary in Gujarat for Rs. 3,800 cr greatly strengthened the company's presence in the promising western market also enabling it to boost exports through the coast. In 2016 Ultratech announced its takeover of Jaiprakash Associates' Cement plants in Madhya Pradesh, Uttar Pradesh, Himachal Pradesh, Uttarakhand and Andhra Pradesh with a total capacity addition of 21.2 MTPA at an enterprise value of Rs.16,189 cr. Commissioning of grinding facilities in Haryana, West Bengal, Bihar along with a greenfield project in Madhya Pradesh took the capacity to 95.3 MTPA. Further Ultratech also acquired ETA Star Cement Company with its operational plants in UAE, Bahrain and Bangladesh thereby establishing its footprint globally. Despite intense competition in the sector and over supply issues, the persistent growth is a symbol of the Birla Group's commitment to its shareholders and accomplishment of its promise of becoming the industry leader.
The company has focused on both top-line and bottom-line growth not giving one up for the other. Revenue has grown from Rs 2,693 cr. to Rs 30,683 cr., while profits have risen at a CAGR of 34% since 2004. The total assets in the balance sheet stand at Rs. 43,697cr multiplying 16 times since FY04. While the company has taken on debt for its growth, it has done so judiciously and only to cater to the attractive investment opportunities in the industry, unlike some its peers which diversified into unrelated businesses and paid the price for it. Its acquisition of key assets in respective regions has enhanced the mining and production capacities while being in proximity to their existing plants. This has helped reduce lead distance, inventory loads while simultaneously de-bottlenecking facilities and maximising operating efficiency. Further during the period FY06-09, Ultratech began building captive power plants in Gujarat and Chhattisgarh. Currently captive power production of 982MW and WHRS capacity of 65MW provides for over 85% of the company's need. Through large investments made into R&D, Ultratech Cement Ltd. is consistently more efficient than its peers in production. This is proven by their ability to take acquired plants and run them more profitably through synergies from Ultratech's bargaining power, efficiency, lower lead distance, better infrastructure, and economies of scale.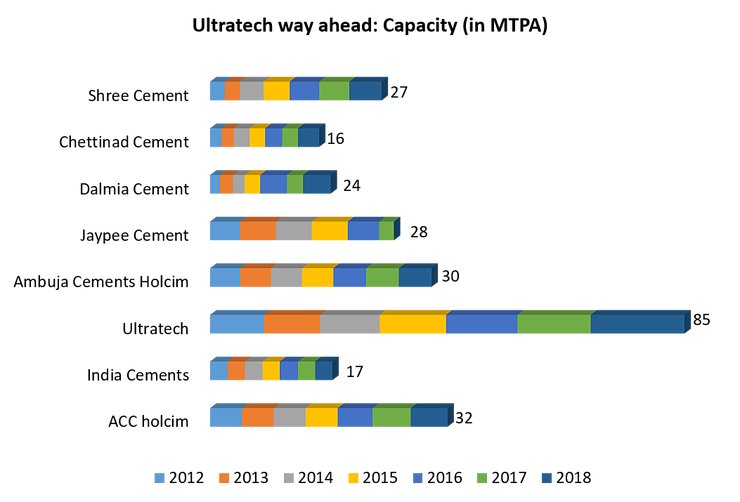 (HAM) road contracts and strict deadline clauses. Growth and improvement in infrastructure will augment the same in real estate. Concrete roads have been given the nod over bitumen roads which is a significant win for the cement industry. Ultratech is the nation's top Ready-Mix Concrete supplier with 107 plants. The government has upped the target of laying roads at 30km/day. The Bharatmala project is set to be the largest single outlay for a road construction project worth Rs.5.35 lakh cr. Bullet train lines between Ahmedabad and Mumbai, a $17 billion project is expected to be completed by 2022. Mumbai Metro project alone is estimated to require 30,000 tons of Cement a month, not to forget the several other Metro projects underway. Further, the rising disposable incomes, migration to cities will auger well for the demand of new houses. It is estimated that the number of cities with a population of over 1 million people will increase to 87 from the current 53 by 2030. The government has planned several projects to accommodate this rapid urbanisation. Authorities have identified 20 out of 100 planned smart cities with an expenditure plan of $7.5 Billion over the next 5 years. The Pradhan Mantri Avas Yojna has sanctioned 8.5 million homes with plans to approve 60 million houses in total. Enormous costs of transporting cement, lack of substitute products and the capital-intensive nature of the business are barriers to new entrants. Large established players like Ultratech Cement are direct beneficiaries of the pan India development projects. Ultratech currently operates at an utilization rate of 70% and there is significant room to ramp up and service this growing demand.
Bored with all this Gyan…well that's the point…!! To summarise, what makes Ultratech interesting is the fact that, since the takeover in 2004, the stock price of the company has appreciated by 15.4x compared to the Nifty index and Nifty Midcap index which gave a 6.7x and 5.7x returns respectively!! For an average investor it's much easier to bet on such market leaders where tangible growth is visible and operations are easy to understand. Further, there are no major overseas investments siphoning money and the company thrives only on intrinsic demand. Investment becomes less stressful if the basics are catered to properly. The old school though boring, gets these basics right!